Innovation Pathway

Center of excellence in Design Thinking & Innovation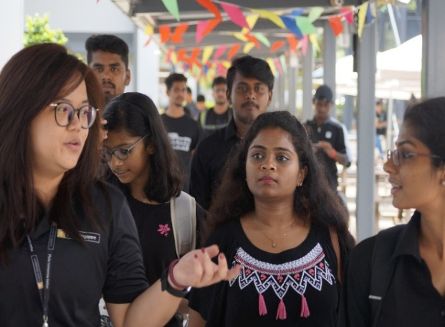 The Center of Excellence in Design Thinking and Innovation, encourages collaboration between international faculty and researchers to promote DT approach & Innovation in thrust areas and its application in solving the industry problems. The center reaches out to the global community to share their knowledge, infrastructure and expertise in problem solving using DT based approach. It encourages students exchange programs and internships from leading universities and research Labs. Students are encouraged to carry out specific studies and short-term projects, by utilising the global infrastructure and subject matter experts.

7 INNOVATION TECHNOLOGIES
SNS institution focuses on major thrust areas of technologies viz.,
Robotics & Automation
AR/VR Metaverse Gaming & Digital Twins
Data Science / AI / ML
Internet of Things
Communication and Growth Tech
Additive Manufacturing (3D Printing)
Low Code Development 
7 INNOVATION industry VERTICALS
The major thrust areas of technologies are applied to the following industry verticals viz.,
Agriculture and food technology
Health care
Power / Energy
Aerospace and Defence
Automobile
Retail [FMCG], Real Estate, Entertainment & Finance [BFSI]
Smart City / Manufacturing 
To teach emerging innovation technologies and their applications towards modern industrial needs by identifying potential problems and solutions using design thinking.
To expand the knowledge base, resources and expertise, by reaching out globally so that students can innovate, incubate and evolve their ideas into startups.

RESEARCH WORK
The research work carried out by SNS faculty are listed under the thrust areas to showcase the expertise available inhouse. 



SNS IBI LIQUID STUDIO

Innovations beyond Imagination
"SNS IBI LIQUID STUDIO – Innovations beyond Imagination" was launched on 9.04.2019. Dr.S.Nalin Vimal Kumar, Technical Director, SNS Institution inaugurated the studio. As an outcome of an Ideathon – Hackathon: Talent Trap 2018-2019, 15 wining innovative projects were displayed as a prototype and product in our SNS IBI LIQUID STUDIO.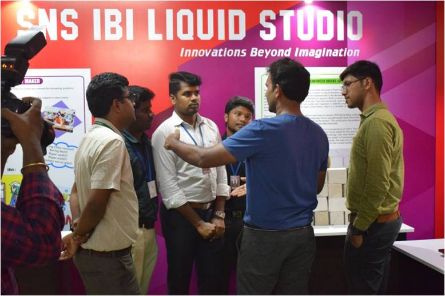 SNS
Design Thinking based industrial projects
#
Title of the Project
Project Team Members
Industry Verticals
Product/Prototype
Special Mention
1
Hybrid bot
Rini Unnikrishna
Sakthi Murukan
Defense
Prototype
DST Sponsored
2
Angular Pursuit
Immanual Jeo Sherine
Sandra
Santhiya
Defense
Prototype
Patent Filed
3
Note me
Monesh
Naveen Kumar
FinTech
Product
Market Ready
4
Reinforcement Bricks
Aravinda Raj
Gokulnath
Gnanasekar
Smart City
Product
PSG STEP Funding
Patent Published
5
Smart Sanaky
Shelvaaathithyan
Arun Karthikeyan
Sreevishnuvarthan
Smart City
Product
Market Ready
6
Traffic Controller
Kavibharathi
Ashwini Latha
Smart City
Prototype
Top 10 in GCT Ideathon
7
Waste to Wealth
Dinesh
Agashvanan
Jagadeesh Kumar
Smart City
Product
Market Ready
8
Smart Library
Surjith Bharathi
Manimaran
Praveen Kumar
Smart City
Prototype
Converted as a Startup
9
Smart Attendance
Pratheep
Mark Romario Williams
Keerthi Kumar
Smart City
Product
Forge Accelerator Mentoring
Market Ready
10
Water Flow Meter
Divya
Abilash
Balaji
Smart City
Product
Forge Accelerator Mentoring
Market Ready
11
Life Saver
Sandeep
Sajeeb
Kavya
Health Care
Prototype
Patent Filed
12
Walking on Water
Davinus Malden Kamil
Melshida Trinadise Kamil
Automobile
Prototype
Patent Filed
13
Smart Helmet
Vergil Heleena
Vishnupriya
Yogesh Raj
Automobile
Product
Market Ready
Patent Published
14
Smart Electricity Monitor
Nandhakumar
Harishankar
Raj Kumar
Energy
Prototype
Consultancy
15
Agreegeek
Karthickraj
Kishore Karthi
Kavinraja
Agriculture
Prototype
Consultancy
liquid studio
product showcase